Патологическое использование и зависимость от социальных сетей — анализ с позиций феноменологии аддиктивного поведения
Дарья Зотова

Санкт-Петербургский государственный университет, Российская Федерация, 199034, Санкт-Петербург, Университетская наб., 7–9

Всеволод Розанов

Санкт-Петербургский государственный университет, Российская Федерация, 199034, Санкт-Петербург, Университетская наб., 7–9

https://orcid.org/0000-0002-9641-7120
Аннотация
Статья обобщает материалы зарубежной и российской литературы, касающиеся патологического использования и зависимости от социальных сетей, сходства и отличий данного феномена от других видов зависимого поведения в Интернете. В обзоре приводятся данные, указывающие на существование зависимости от социальных сетей как самостоятельного расстройства. Отличия от интернет-зависимости касаются прежде всего эффектов социальных взаимодействий, в то же время во многих исследованиях подтверждено взаимное перекрывание  другими электронными зависимостями (к примеру, от смартфона, Интернета, сетевых игр и т. д.). Чрезмерное использование социальных сетей часто ассоциировано с  другими поведенческими зависимостями, такими как пищевая зависимость, зависимость от покупок, гейминг, а также с рядом других проблем психологического здоровья (тревогой, депрессией, низкой самооценкой, мыслями о суициде и т. д.). В качестве личностных факторов зависимости в литературе чаще всего упоминаются повышенный нейротизм, экстраверсия, сниженная сознательность, а также склонность к эмоциональному общению, иногда авантюризм, склонность к  позерству и  самолюбованию. Для клинических и  научных целей в  Дании разработаны Бергенская шкала зависимости от социальных сетей (the Bergen Social Media Addiction Scale (BSMAS)) и Бергенская шкала зависимости от Фейсбука (the Bergen Facebook Addiction Scale (BFAS)). Оба теста адаптированы во многих странах мира, их широкое использование позволит уточнить распространенность данной зависимости в  различных возрастных группах и  выяснить ее ассоциации с  другими видами зависимого поведения, нарушениями психического здоровья и особенностями личности.
Ключевые слова:
социальные сети, зависимость, BSMAS, BFAS, электронная зависимость, патологическое использование, Интернет
Скачивания
Данные скачивания пока недоступны.
Литература
Statista. Share of Facebook Users Worldwide Who Accessed Facebook via Mobile from 2013 to 2018 (Accessed:29.01.2020).
Status of Mind: Social Media and Young People's Mental Health and Wellbeing Submitted. London: Royal Society for Public Health, 2017.
Çam E., Isbulan O. A new addiction for teacher candidates: social networks. Turk Online Journal Education Technology, 2012, vol. 11, pp. 14–19.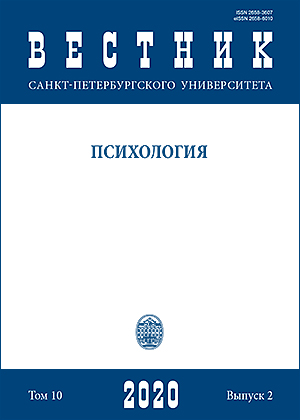 Как цитировать
Зотова, Д., & Розанов, В. (2020). Патологическое использование и зависимость от социальных сетей — анализ с позиций феноменологии аддиктивного поведения. Вестник Санкт-Петербургского университета. Психология, 10(2), 158-183. https://doi.org/10.21638/spbu16.2020.204
Раздел
Эмпирические и экспериментальные исследования
Статьи журнала «Вестник Санкт-Петербургского университета. Психология» находятся в открытом доступе и распространяются в соответствии с условиями Лицензионного Договора с Санкт-Петербургским государственным университетом, который бесплатно предоставляет авторам неограниченное распространение и самостоятельное архивирование.